New AC System in Kingwood, TX
It's hard to get through a Kingwood, Humble, The Woodlands, Spring, or Atascocita summer without a properly functioning AC system.
If your current system is no longer getting the job done, it might be time to have a new AC system installed. By upgrading to a new model, you will be able to enjoy a number of benefits – and it might not cost as much as you would expect. Contact Accurate Air Solutions today to learn more about our service and to schedule your appointment. We are excited to serve you!
What our customers are saying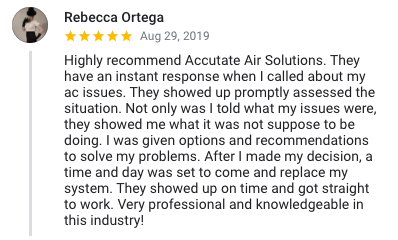 How do you know when you might need a new AC system?
One of the best things you can do is simply pay attention to how your current system is working day after day. When the weather gets hot, does your system struggle to keep up and maintain a comfortable temperature? If it seems like it's harder to keep your home or business cooled at the right temperature when the weather gets warm, that might be a sign that your system needs to be replaced. Or, at the very least, your system might need to be repaired to bring it back up to an acceptable level of performance.
Another sign that something is wrong with your current system is skyrocketing utility bills. If you are paying more for your utilities than in previous summers – and the rates haven't changed significantly – that's a sign that your unit may be working harder to cool the space. As the efficiency of the air conditioner tails off over time, it will pull more energy and cause your bill to go up. Replacing the old unit with a new AC system could bring those bills down in addition to providing you with better performance.
Timely Install
It would be great to plan well in advance and think about having a new AC system installed long before summer weather arrives. But we all know that's not how life works. In the real world, things get in the way of your planning and it's May before you know it. Fortunately, by working with Accurate Air Solutions, you can get a quick turnaround in most cases. As soon as you are thinking about adding a new AC unit, give us a call and get on the schedule. We get busy like all other HVAC contractors during certain times of the year, but we always work hard to provide our customers with the turnaround times they deserve.
The Value of New
It can be hard to convince yourself to purchase a new AC system. New air conditioning units don't come free, of course, so you need to weigh the benefits of upgrading your system against the cost you will have to handle. Fortunately, there is a lot to gain by paying for a new unit, and most customers will find that the investment is more than worth it in the end. As you work through this decision, keep the following points in mind –
Reduced energy costs. We mentioned this important point earlier. As your current AC unit gets older, it will lose efficiency and cost more to run. Also, new units include modern technology that is more efficient than older versions, so it's a win-win proposition. Over time, the money you save on energy will make up for at least part of the cost of your new AC.
Better performance. What's the point of paying for air conditioning if it isn't going to work well enough to keep you comfortable? With a new AC system, you can expect to enjoy more successful temperature regulation throughout the summer – even on those brutally hot Humble days. If you've been struggling along not getting what you need from your AC, you'll be impressed with what a new system can provide.
As you might expect, a new air conditioner is more likely to be reliable than an old model that has been around for a decade worth of summers. Since you don't want to have to deal with your old AC unit going out right in the middle of the summer, upgrading means you should have some added peace of mind.
Warranty coverage. Many new AC units will come with some degree of warranty coverage. So, even if something does happen to the unit, you can lean on that warranty to get you out of the situation without having to spend any money (or, at least, very little money).
The Right Partner
Perhaps the most important part of the new AC system install process is picking the contractor who will do the work on your property. To get that choice right, simply pick Accurate Air Solutions and move one. We pair excellent customer service with the experience and knowledge necessary to handle any challenges that may come up along the way. Thank you for visiting and our team is looking forward to hearing from you today.