Commercial AC Repair in Kingwood, TX
It's tough to run a business in a Kingwood, Humble, The Woodlands, Spring, or Atascocita, TX summer when your air conditioning is not working properly.
Whether for a retail space or for residential housing units, you need to get your AC back up and running as quickly as possible. And, of course, you have a budget to consider, so you need to get a fair deal for the work that must be done. To have all your needs met without the headaches that can come along with working with other contractors, reach out to Accurate Air Solutions today. We are here to help! As a business owner or manager, you already know that it's important to present your business in the proper manner at all times. Whether it is in the products and services you offer your customers, the way your team offers service, or anything else, you always want to put your best foot forward. And that even extends to things like the contractors you hire to work on your property.

There will be nothing to worry about when you opt for Accurate Air Solutions.
Our team is professional from top to bottom, and we will always hold ourselves to a high standard while on your property. It would be a shame to have a contractor take away from the reputation you have worked so hard to establish, and Accurate Air Solutions will make sure that doesn't happen.
One of the important points to keep in mind as you plan a commercial AC repair is the impact that the work will have on your business. Even the best contractor is likely going to need to interrupt business in some way, whether it is a power interruption, work equipment in an open space, or something else. So, you'll want to work with a team that can schedule the work in a way to minimize the impact on your operation.
Accurate Air Solutions is happy to tailor our timing to do what is best for your company. For a busy restaurant, working in the morning may be best so the space is cleared for lunch and dinner service. Or, in an office building, it might be necessary to work on the AC repair job after normal business hours. Whatever the case, we are happy to work with you to create a plan that minimizes impact and gets your AC up and running once again.
Managing the Budget
Whether residential or commercial, everyone wants to get a fair deal when they have an AC unit repaired. For this commercial job, you will be happy to find that we are going to work hard to protect your budget while bringing your air system back up to the standard that you expect. Taking only a small bite out of your budget for this work will open up that money to do other things for your business.
Our goal is to bring you the best possible value for your money on every AC repair job. That means it's not only about good prices – it's about getting the work done right the first time. You aren't going to get good value if you pay a low price for a repair that doesn't really work in the end. Accurate Air won't leave you in a position where you need to pay another contractor to fix the first round of repairs – we'll do it right so you can move on and get back to work.
Large Systems Can Be a Challenge
For a large commercial property, an AC repair can be a rather large and complicated job. For that reason, it's important not to trust this work to a contractor without the experience and team needed to handle the work. If you were to turn over a big commercial AC repair to a small and untested contractor, you may wind up wasting both time and money in the end. There is simply no need to take that kind of risk. Instead, lean on experience and an established reputation for doing work that offers value and stands the test of time. Accurate Air Solutions has that kind of reputation and we'd be happy to put all of our experience to work for you.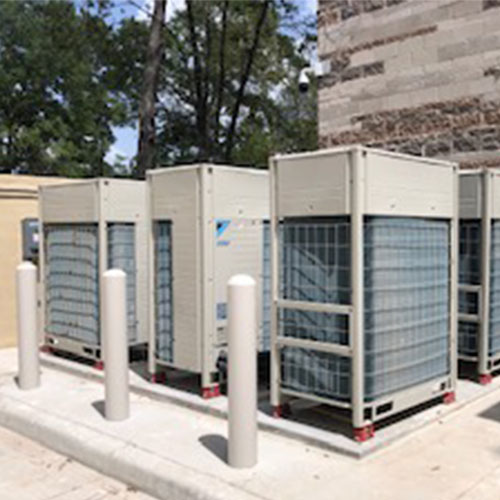 Keep Business on Track
An extended delay in having your AC system repaired could set your business back significantly. Don't let that happen – give us a call at Accurate Air System right away to make sure you get that cool air flowing once again. With a valuable combination of experience, knowledge, and fair pricing, you'll be thrilled with what you receive from start to finish. Accurate Air Solutions is proud to serve customers throughout the Kingwood, Humble, The Woodlands, Spring, and Atascocita area, so don't hesitate to contact us to get started. We are ready to get to work!